100% Valid Lead2pass Microsoft 70-533 New Questions Free Version:
https://www.lead2pass.com/70-533.html
QUESTION 21
You manage an Azure subscription with virtual machines (VMs) that are running in Standard mode.
You need to reduce the storage costs associated with the VMs.
What should you do?
A. Locate and remove orphaned disks.
B. Add the VMs to an affinity group.
C. Change VMs to the Basic tier.
D. Delete the VHD container.
Answer: A
Explanation:
http://azure.microsoft.com/en-us/pricing/details/virtual-machines
QUESTION 22
You manage several Azure virtual machines (VMs).
You create a custom image to be used by employees on the development team.
You need to ensure that the custom image is available when you deploy new servers.
Which Azure Power Shell cmdlet should you use?
A. Update-AzureVMImage
B. Add-AzureVhd
C. Add-AzureVMImage
D. Update-AzureDisk
E. Add-AzureDataDisk
Answer: C
Explanation:
The Add-AzureVMImage cmdlet adds an operating system image to the image repository.
The image should be a generalized operating system image, using either Sysprep for Windows or, for Linux, using the appropriate tool for the distribution.
Example
This example adds an operating system image to the repository.
Windows PowerShell
C:\PS>Add-AzureVMImage -ImageName imageName -MediaLocation
http://yourstorageaccount.blob.core.azure.com/container/sampleImage.vhd-Label
QUESTION 23
You manage an Azure virtual network that hosts 15 virtual machines (VMs) on a single subnet which is used for testing a line of business (LOB) application.
The application is deployed to a VM named TestWebServiceVM.
You need to ensure that TestWebServiceVM always starts by using the same IP address.
You need to achieve this goal by using the least amount of administrative effort.
What should you do?
A. Use the Management Portal to configure TestWebServiceVM.
B. Use RDP to configure TestWebServiceVM.
C. Run the Set-AzureStaticVNetIP PowerShell cmdlet.
D. Run the Get-AzureReservedIP PowerShell cmdlet.
Answer: C
Explanation:
Specify a static internal IP for a previously created VM
If you want to set a static IP address for a VM that you previously created, you can do so by using the following cmdlets. If you already set an IP address for the VM and you want to change it to a different IP address, you'll need to remove the existing static IP address before running these cmdlets. See the instructions below to remove a static IP. For this procedure, you'll use the Update-AzureVM cmdlet. The Update-AzureVM cmdlet restarts the VM as part of the update process. The DIP that you specify will be assigned after the VM restarts. In this example, we set the IP address for VM2, which is located in cloud service StaticDemo.
Get-AzureVM -ServiceName StaticDemo -Name VM2 | Set-AzureStaticVNetIP -IPAddress 192.168.4.7 | Update-AzureVM
http://msdn.microsoft.com/en-us/library/azure/dn630228.aspx
QUESTION 24
Drag and Drop Question
You administer two virtual machines (VMs) that are deployed to a cloud service.
The VMs are part of a virtual network.
The cloud service monitor and virtual network configuration are configured as shown in the exhibits. (Click the Exhibits button.)
You need to create an internal load balancer named fabLoadBalancer that has a static IP address of 172.16.0.100.
Which value should you use in each parameter of the Power Shell command? To answer, drag the appropriate value to the correct location in the Power Shell command. Each value may be used once, more than once, or not at all. You may need to drag the split bar between panes or scroll to view content.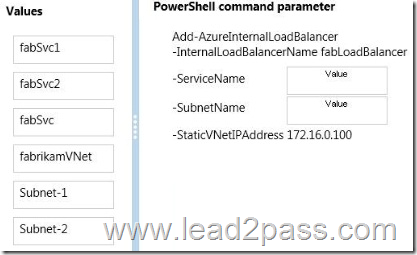 Answer: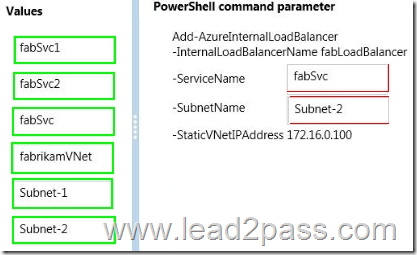 QUESTION 25
Your network environment includes remote employees.
You need to create a secure connection for the remote employees who require access to your Azure virtual network.
What should you do?
A. Deploy Windows Server 2012 RRAS.
B. Configure a point-to-site VPN.
C. Configure an ExpressRoute.
D. Configure a site-to-site VPN.
Answer: B
Explanation:
New Point-To-Site Connectivity
With today's release we've added an awesome new feature that allows you to setup VPN connections between individual computers and a Windows Azure virtual network without the need for a VPN device. We call this feature Point-to-Site Virtual Private Networking. This feature greatly simplifies setting up secure connections between Windows Azure and client machines, whether from your office environment or from remote locations.
It is especially useful for developers who want to connect to a Windows Azure Virtual Network (and to the individual virtual machines within it) from either behind their corporate firewall or a remote location. Because it is point-to-site they do not need their IT staff to perform any activities to enable it, and no VPN hardware needs to be installed or configured. Instead you can just use the built-in Windows VPN client to tunnel to your Virtual Network in Windows Azure.
http://azure.microsoft.com/blog/2013/04/26/virtual-network-adds-new-capabilities-for-cross-premises-connectivity/
QUESTION 26
Drag and Drop Question
Your development team has created a new solution that is deployed in a virtual network named fabDevVNet.
Your testing team wants to begin testing the solution in a second Azure subscription.
You need to create a virtual network named fabTestVNet that is identical to fabDevVNet.
You want to achieve this goal by using the least amount of administrative effort.
Which three steps should you perform in sequence? To answer, move the appropriate actions from the list of actions to the answer area and arrange them in the correct order.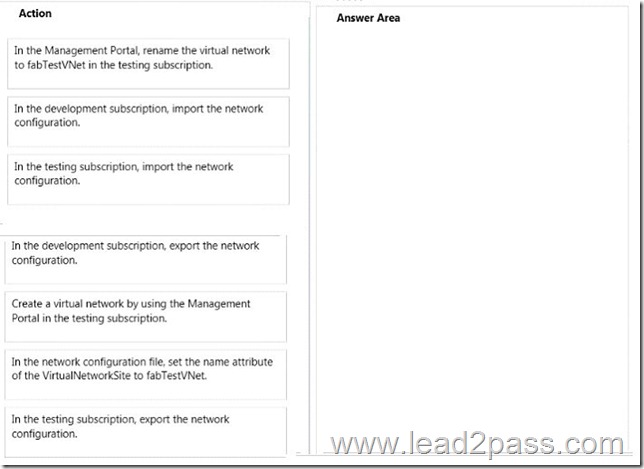 Answer: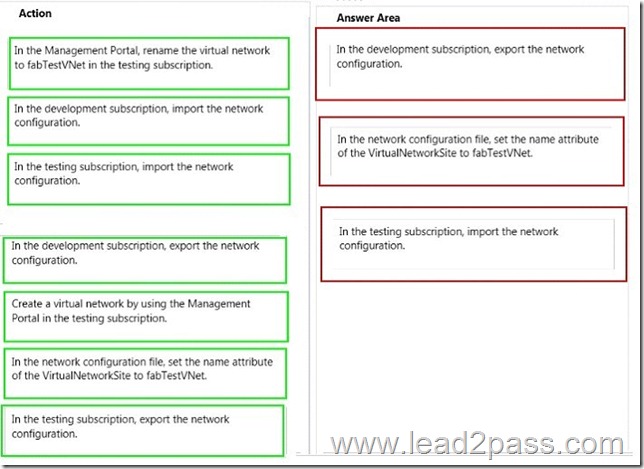 70-533 dumps full version (PDF&VCE): https://www.lead2pass.com/70-533.html
Large amount of free 70-533 exam questions on Google Drive: https://drive.google.com/open?id=0B3Syig5i8gpDclh4YVRORS1vaHc
You may also need:
70-532 exam dumps: https://drive.google.com/open?id=0B3Syig5i8gpDbm1XNUxwQUYwaWM
70-534 exam dumps: https://drive.google.com/open?id=0B3Syig5i8gpDaTBTRVp4SktqMXM